The Blue Rose
Gallery
©
FLYER
---
FREE INTRODUCTION WORKSHOP SESSIONS FOR ALL 1st TIMERS
FREE FOLLOW-UP's FOR GOOD STANDING MEMBERS
OF THE BLUE ROSE GALLERY & F.S.P.O. COUNCILING SESSIONS
( RAW MATERIALS NOT INCLUDED)
clickGet Your Membership Application For The Blue Rose Gallery Here click


---
1) F.S.P.O. participants, healing is free and absent, no membership fee required. Please fill out a background form and forward. Under the $total heading of the FSPO application, state "heal". All information is confidential! Interested parties may drop in during public times for study and review.
2) In group, we make and or paint quaint wooden lawn art decor, dimensions ranging from two feet to five feet. The best sellers are angel signs with mantra / meditation or personalized inscriptions affixed. i.e.: Handson Haven, if your Sir name were Handson. In addition are brightly coloured butterfly ornaments, which currently surround the Butterfly Lady. The funds which are raised from these sales are applied towards the program.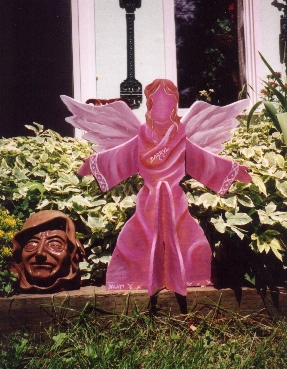 aprox. 2 foot tall, $80.00 can.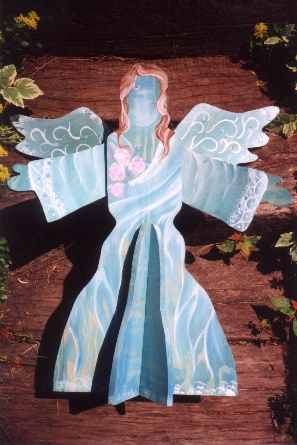 aprox. 2 foot tall, $80.00 can
5 foot tall , $120.00 can
Not just used for X-Mas decoration but are indeed all seasonal.
Two footers are great indoors and five footers under a spot light works well outdoors.
The Angel Loft is open 24/7 at TBRG
click here for more decor items
3) At your disposal, we have Crystal Chakra bowls to tune yourself by or, to chant and fun around with. This function occurs during the Sunday afternoon Open House. In addition to this public provision, they to are also available for persons to purchase. Inquire within.




7 piece set to the left, $1200.00 can
click for more info





4) Group meetings that are open to the public happen two evenings a week. The Wednesday focus is on "Angels" and Friday topics are visions, dreams and emotions. Take note these are good times to meet interesting people in a social environment and, healing is also available at the meetings.
5) Modern Samigushie collection may be commissioned in your chosen size and colour combination.
6) Public consultation days are by definition, 10:00 a.m. through 5:00 p.m. Saturdays and Sundays. For personalized and private appointments please inquire within. Otherwise Mon to Sat. 10:00 through 5:00 are regular business hours by appointment only or happen chance.




Directions to the facility.
---
membership, home, top of page, contact

Copyright © by The Blue Rose Gallery
all rights reserved